Are You Ready To Sink Your Teeth Into The Hottest Journalist Alive?
Hello! This is my new personal blog where I will be sharing all sorts of fascinating occult information, as it pertains to  Luciferian controlled politics and the entertainment industry where I dominate as an independent news journalist. I specialize in the topics of demonic entities, witches, vampires, cannibalism, black magick, SRA (Satanic Ritual Abuse) and CIA trickery/black ops. My main site is TheMetalDen.com, and in the past 13 years my reporting has been exposed to hundreds of millions of readers in over 100 countries.
Since 2017, my work has been featured on 100+ webzines over a wide range of subjects, including the Chris Cornell death investigation. My fans also know me to have a wicked sense of humor, for I am equally as famous for fooling the mainstream media from time to time with sensational fake news artistry.
Two years ago, I faked out one of the biggest news sites in the United Kingdom called 'Metro', tricking them into posting a bogus story about Lady Gaga being asked to sing on METALLICA's next record in 2019.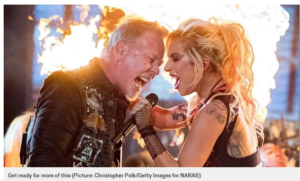 I also write spec screenplays. The latest one I completed is about the downfall of Al Capone through the eyes of my late grandmother. "Public Enemy Number One" is copyrighted and can be read online HERE.
Fans of baseball can read my new blog called THE BASEBALL DEN HERE.
I am available for freelance writing assignments for pay (negotiable) and interviews starting January/2019. To book me email:
themetalden@gmail.com
Any generous supporters can donate via GoFundMe. Thanks in advance!
- Randy